Report Phishing Email: What to Do When You Catch a Phish
We've been educating you about phishing emails for years and in trolling around your inbox, it's not uncommon to come across one of those pesky emails just about every day. The easiest approach is to ignore it or mark it as spam and go on with your day. However, by taking just a minute or two to report it, you can help make the Internet a safer place for you and the rest of the world.
Out of the Net and into the Tank
OpenDNS, the world's largest, fastest-growing DNS service provider, launched PhishTank in an effort to make the Internet a better place for all us.
Phishtank serves as a clearing house for data and information about phishing on the Internet and provides the information to developers and researchers to integrate anti-phishing data into their applications. Best of all, the Phishtank services are free!
Some Statistics
Here are some statistics from October, 2009 to give you an idea of what kind of impact PhishTank has on scam emails:
Total number of votes by the PhishTank community: 68,575
Total number of unique, suspected phishing scams reported: 23,159
Country hosting the most phishing sites: United States
Percentage of phishing sites hosted in United States: 26
Median time it took for the PhishTank community to verify phishes: 8 hours, 19 minutes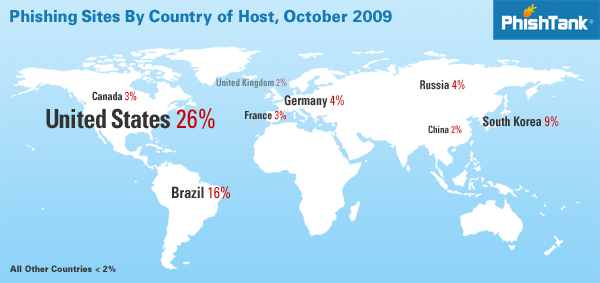 So how does this all work?
Exercising a little philanthropy has never been easier:
Complete the free registration (http://www.phishtank.com/register.php). It literally takes 30 seconds.
The next time you get a phishing email, simply use your registered email address to report it. This can be done by logging directly onto the site or sending a quick email to phish@phishtank.com.
It is important to include as much information as possible, including mail headers if possible. For that reason, it's best to redirect any suspected phishes to PhishTank. To submit suspected phishes from other email addresses, use your individual phish reporting address, which is available from My Account page once you are signed in. Phishtank recommends adding your individual phish reporting address to your address book in every mail application you use, for all accounts.
Also, it's best to avoid forwarding the phishing email, as some information in the original phish is usually lost, whether mail headers, tell-tale images or even URLs.
Please note that Phishtank is just one example of sites out there trying to make the Internet better—it's really not important which one you use. However, the next time you catch a phish, remember your Boy Scout days and "do a good turn daily"…report it.
But Wait, There's More!
As a side note, OpenDNS offers other services through innovative uses of the DNS. Some of these include free parental controls (porn filtering), phishing protection, and other advanced services for consumers and network administrators alike. Check out their free and deluxe plans here: http://www.opendns.com/start.